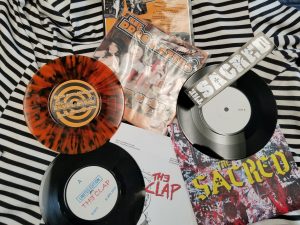 On Saturday night 1/20 any self-respecting punk rocker was hob nobbing at the Nazareth Jacksonian Club in Pennsylvania. The evening was an occasion to see three great punk rock bands in one location. Dale Nesfeder, LV Native, is very active in the punk rock community and he's been integral in coordinating and hosting such events at "Punks Against Terrorism" a benefit for Manchester England after the attack at the Ariana Grande show, and Punks for Pets - a fun little fundraiser benefiting the local no-kill pet shelters. Steel Notes Magazine was at both and yours truly acted as emcee for the latter.
Dale and The Jacks (insiders term for The Nazareth Jacksonian Club) have a nice relationship and he books awesome shows there periodically. Saturday night was one of those shows and if you are an old school punk rocker - this was your (scratch that)
OUR kind of night!
Here's some short history= in the little Lehigh Valley there are two communities which, for some unknown but highly discussed reason, are populated with punk rockers. I'm talking fans, bands, and mohawks. Towns where you can find as many Sex Pistols Tees being worn by parents and their kids, where everyone gathers at local playgrounds for free punk festivals and you can still find an old head sporting some jack boots and ripped jeans at the county fairs. Nazareth Pa is one of them-the other is Catasauqua.
The first band up Saturday was a band from Catasauqua named "The Clap" These guys were the front runners in the local garage band punk scene and everyone knew, and still knows them. Although their members are aging (like those of most rock or punk bands these days...) they still remain both respected and active in the punk rock community - we're a tight knit band of brothers! They were first on stage ht night and in a surprising move to everyone, they made the wise decision, after about 30 years of playing, to add an extra guitar player into the mix. The result was phenomenal. The band, which was good before, took their music to a new appeal level. The general opinion after the set was that they never sounded better! The new guitar player is Dox, formally of the Slamhounds and Catasauqua High School (of course). He joined Johnny Loftus – bass and vox, Art Zawodny-guitar and Mike DiPollo on drums to create a new sound. Here's one chick happy to see they put their competitive differences aside and combined forces to create some killer music.  Check out their website-it's one of the best I've seen actually....  www.theclap.com or just click below to hear a few chords
Next up was the all-female punk rock sensation called The Droogets. The gals are from Bucks County and always well received by the punks at The Jax
. The 4 girl band  is self-described on their Facebook page as "A clockwork orange themed Oi! band".
This fabulous aural treat consists of band members Jenn- Vocals, Elija- Guitar, Rachel- Bass and Ginger on Drums. And make no mistake about it – they girls came to perform. With a high energy set consisting of heavy bass lines and percussion, strong vocals and some pretty impressive guitar work; the crowd was on their feet and on the dance floor in no time. Lead Vox, Jenn, has to be about 5 foot 2 and 100 pounds wet. It's quite a puzzle how she creates those punk rock vocals, but she does, and does it well. She also spends a good amount of time dancing on the floor by or in, the mosh pit and almost dares the crowd not to have a good time! They did a great job and I may have heard a rumor that they will be back in the area for a CD release party in the near future!  Check out a video to hear what I'm hearing...https://youtu.be/uBplwp5zJxs
The last band to hit the stage was Philadelphia natives, The Sacred
. The four man band is fronted by Steve Sherk, a vocalist who adds his own brand of performance art to the show.
He ran the gamete that night, from pogoing on the stage while not missing a note in the song he was singing to gyrating on the floor during another one. Their fast solid style of  rock was a great way to end the night .  I!t was easy to see these guys enjoy their work, and do a great job making sure everyone else enjoys as well.  Lets hear some !
https://www.facebook.com/TheSacredRAFR/videos/2053660658197582/?t=18
Backing up charismatic front man, Steve "Thee SS" Sherk is guitarist Deane Clapper, bassist Rob Martyn and drummer Chloe "Two Shits" Stewart.  Check out their facebook page for more details. https://www.facebook.com/TheSacredRAFR/