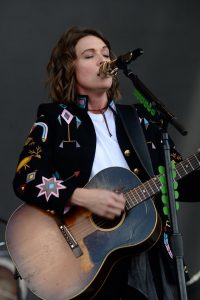 "Golden Voices " Of Rock n' Roll
The wondrous mysteries of women crooners continues in 2019. Bonnaroo has a history of Queens awaiting the diadem that is the mirrored image of these chosen muses of Rock n' Roll. Over a decade ago, a stunning, somewhat inhibited young woman played on one of the auxiliary stages at Bonnaroo and albeit unknown at the time, she was captivating, charismatic and charming with a voice that continues to resonate across the globe.
After her performance we stumbled into each other and she ask what I thought. I told her that with her God Given ability to write songs, mesmerize an audience and please the masses with a masterful idiom of lyrics, she would be the next nobility of her chosen genre and all these years later that is exactly what happened. We can render the plaudits and kudos for her contribution to music to Ashley Capps (AC Entertainment and Ken Weinstein (Big Hassle Media).
It would a daunting task to replicate the magnitude of Grace Potter but welcome to Bonnaroo 2019 and Brandi Carlisle. Again, another protege who played Bonnaroo several years ago and unknown as a Canadian folksinger. She has continually grown as an artist, a force to be reckoned with as of 2019. She has an innate ability to communicate with the fans,
her artistic epiphany of long ago has now reached the apex of grandeur, a gradual climb to "Rock n Roll" Royalty and again, plaudits to Ashley Capps and Ken Weinstein.
The vapid attempts by others has now been replaces with not only the return of Grace Potter in 2019 but augmented with the splendid performances of Brandi Carlisle. It's "personal sunrises" for both of these youthful mavens of todays world of music. These are lyrics of today's world, acerbic yet tunes that will be the monolithic epic radio songs that will transcend for decades. Only a few have the ability, Lauren Murphy, Lynn Asher, Nancy Nevins years ago and of course Grace Slick and Janis Lyn Joplin. These are the paradigms of todays musical tapestry, the laurels of their impacts will be duly noted as time progresses, it just never gets better than these women who "Rock the souls".
Don Aters - 7/2/19