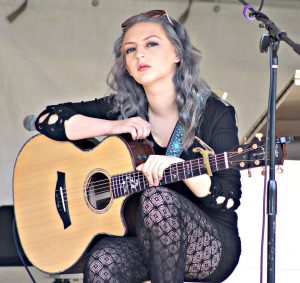 Josie Presents: Kayla Avitabile
Sherman Theatre, March 4, 2017
Last issue, we shared a press release for a young singer/songwriter named Kayla who was releasing a single. This month, I had the opportunity to hear her play. I was invited to see her at East Stroudsburg, Sherman Theatre by her manager, Bob Robertson. We spoke a while about Kayla's high school career – (she's still in high school, and number 10 in her class) her plans for the future, (college with a degree in possibly social policy??) and her family (she comes from a family of brilliant scholars as well as musicians, her brother Michael plays flute in a classical music ensemble).
She has a passion for music but a gift for maturity beyond her years. I knew by the time dinner was over, that this young lady had an amazing future before her ;regardless if she made it in the music industry or not.
Her set at the Sherman theatre was part of an alternative music showcase featuring bands such as Sad Lips, Joe Billy, and Summer Scouts. Kayla certainly held her own in a room of differently thinking, musically gifted people. Her lyrics were dotted with angst and her chords were hard and sometimes angry…quite the contrast to her amicable nature and sweet appearance. She has found a voice in her music, and it's quite an agreeable one!
By the time she was done, I wasn't sure what she did better – sing, or play guitar. Needless to say both were impressive. She has an alternative edge to her lyrics and her playing and her timing is impeccable. The changes and middle eights she writes into her songs have a difficulty level that you wouldn't expect from an up and coming musician. He stage presence, although small is stature, was large in confidence.
Thanks to her manger, Bob, I'm attaching a link so you can take a listen. If Kayla is playing in your area – make a point to stop by-you'll see what I mean. We will keep an eye on her…and I'll update you as her career grows. I hope to have her on my live interview show this summer, and if I do, you will all certainly have a front row seat!