What We've Learned from Bon Jovi's 'This House Is Not for Sale' Tour
Guns N' Roses are not the only old-school rock act on tour. Also performing concerts around the world are Bon Jovi, who in December concluded the Oceania leg of their This House Is Not for Sale tour. The band's 18th world tour has so far been well received, even-setting the attendance record at Bridgestone Arena in Tennessee and getting rave reviews from publications like Tennessean.
The final leg of the This House Is Not for Sale tour will be in Europe and will begin on May 31 in Moscow, Russia. The Moscow concert will be held at the iconic Luzhniki Stadium, which Ladbrokes reports hosted several games during the 2018 FIFA World Cup, including the final. It has a capacity of over 80,000 and it is located just 7 kilometers from the city center. The concert will be filled to the brim with tens of thousands of screaming Bon Jovi fans come May 31.
That final leg, though, is still a few weeks away. In the meantime, let's take a look at some of the things we have learned so far from this hugely successful Bon Jovi tour.
The band are resilient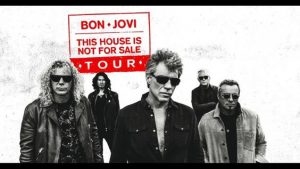 IMAGE CREDIT: Pinterest
Nearly four decades — that's how long Bon Jovi have been in the industry. Yet, here they are, still touring the world and putting on show-stopping concerts in front of thousands upon thousands of rabid fans. Even as the members are approaching their golden years, they have nonetheless kept Bon Jovi a band for the ages. They are also doing this without the beloved Richie Sambora, who left in 2013.
Nostalgia is a powerful force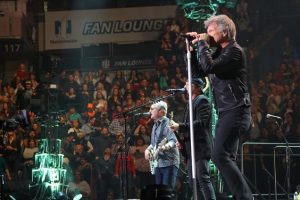 IMAGE CREDIT: Pinterest
Again, we'll reiterate: nostalgia is a powerful force. That applies here, too. Just as Guns N' Roses have benefited greatly from their diehard fanbase, Bon Jovi are reaping the same rewards for having such loyal fans. Obviously, Bon Jovi have never disbanded like GNR or taken an extended hiatus, but their fans still can't get enough of the band, or their music. It's no wonder then that Bon Jovi include several all-time favorites in their set list, like "You Give Love a Bad Name," "Bad Medicine," "Wanted Dead or Alive," "Livin' on a Prayer," and even "It's My Life."
It pays to involve the fans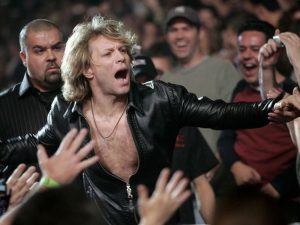 IMAGE CREDIT: Pinterest
Prior to their tour, Bon Jovi announced a contest in which they'll pick their opening act. Aspiring artists from North America uploaded videos of themselves performing original music. Ten finalists were selected by This House Is Not for Sale promoter Live Nation and winners were then picked by Bon Jovi management. The response was overwhelming, and each concert on the North American leg of the tour featured a different opening act. Clearly, Bon Jovi know how to give back to their fans, who in turn are continuously supporting the band.
Jon Bon Jovi remains a presence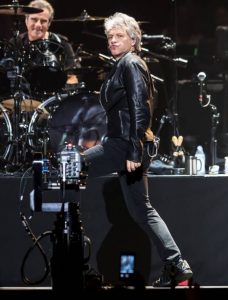 IMAGE CREDIT: Pinterest
With Sambora long gone, Jon Bon Jovi is now the undisputed star. And he continues to play that part with aplomb. In other words, Jon never fails to put on a show, even at the age of 57. Jon still has that athletic energetic stage presence, even as his soaring voice no longer soars as high as it used to. To that end, his band mates have helped compensate, singing along with him to give the songs that hallmark crescendo.
This House Is Not for Sale tour is on its last leg, and it will begin on May 31 in Moscow. A total of 21 shows have been scheduled, with stops at various destinations all across Europe, including Stockholm, Madrid, and Bucharest.