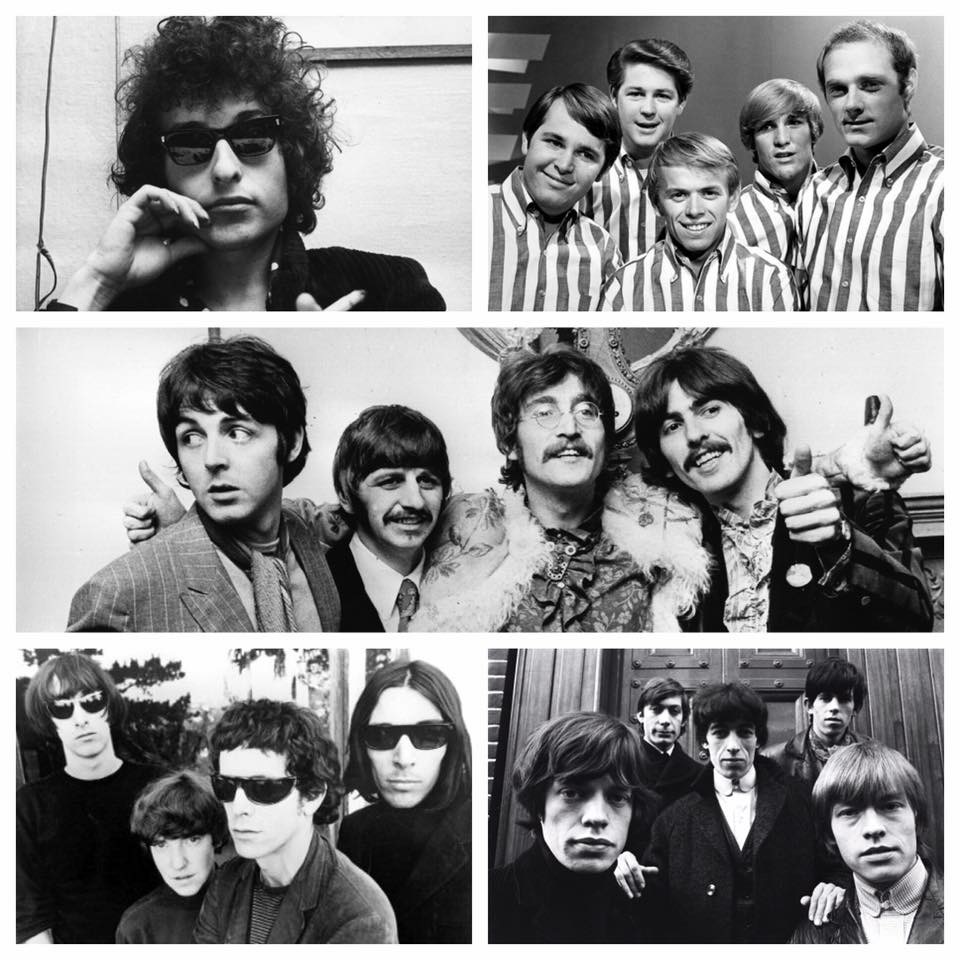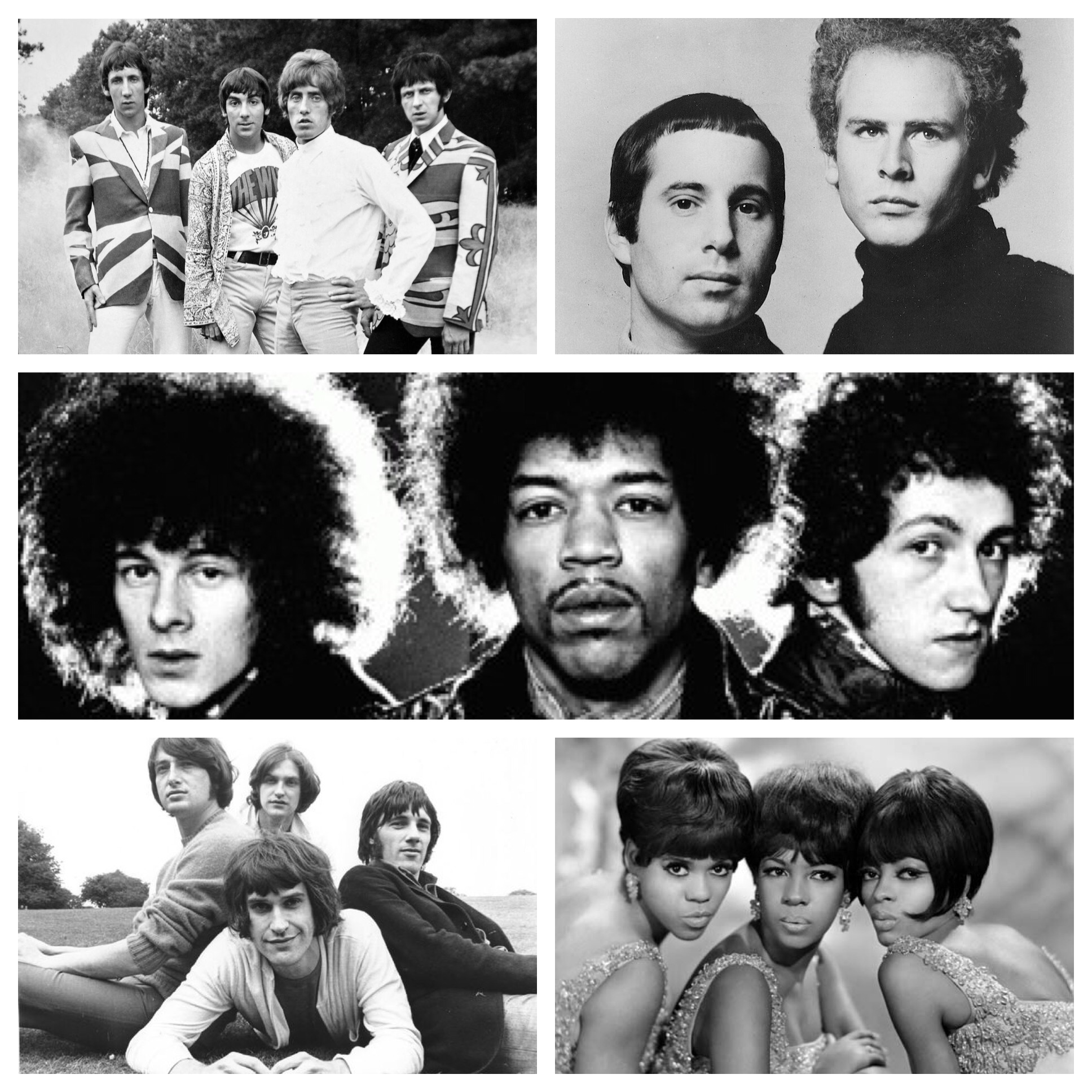 The 1960's was a decade of change.
Not just musically, but politically and socially as well. It's fascinating to witness evolution in music. I mean, could ANYONE have seen the psychedelic era coming in 1962? There's one artist above all that dominated this decade. I'm sure you've heard of them. The Crickets? No, sorry that's not it. Ah, that's right, The Beatles. The four lads from Liverpool that changed music forever and easily the greatest artist of the 20th century. But they weren't the only "British Invasion" band that made their mark. Artists like The Rolling Stones, The Who, The Kinks and The Zombies all made significant music throughout the decade.
But what about the good ol' US of A? Of course since rock music was created in the US, there's plenty of great American artists. Bob Dylan led the pack in that department, delivering some of the greatest songs ever and two of the twenty greatest albums ever in "Highway 61 Revisited" and "Blonde on Blonde". He's on my musical Mt. Rushmore for sure. He along with The Beatles and The Beach Boys helped change Rock and Pop from "entertainment" into "art" with their releases from 1965 to 1967. Some people don't like this truth and often turn up their nose at "Progressive" and "Art" Rock and Pop as being "pretentious" or "boring". Their loss, I say.
So white guys playing guitar of course wasn't the only great thing to come from this wonderful time in music. We saw the rise of four of the greatest and most recognizable black artists ever in Jimi Hendrix, Marvin Gaye, Michael Jackson (with the Jackson 5) and Stevie Wonder. Though the latter three artists' prime were in the decades that followed, it's interesting to observe their beginnings. In the Jazz world, it gave way to Rock and Pop as the dominant music genres by the middle of the decade, but there wasn't a shortage of Jazz classics. John Coltrane and Charles Mingus both released their greatest achievement, "A Love Supreme" and "The Black Saint and the Sinner Lady", respectively. And we surely can't ignore the lovely Girl Groups during this time. Trust me, at best, this isn't mediocre "teen" pop in the slightest. The Supremes? I'll take them over most rock bands. And the single greatest pop song of all-time? From the Girl Group genre. I rest my case.
I could go on and on about talking about this era. We have never seen music change more drastically from the beginning to end of a decade than the 60s. I feel though as I can safely say that when you look at popular music, the 60s was without a doubt the pinnacle in quality. So let's get psychedelic and take a look at the best songs the decade had to offer.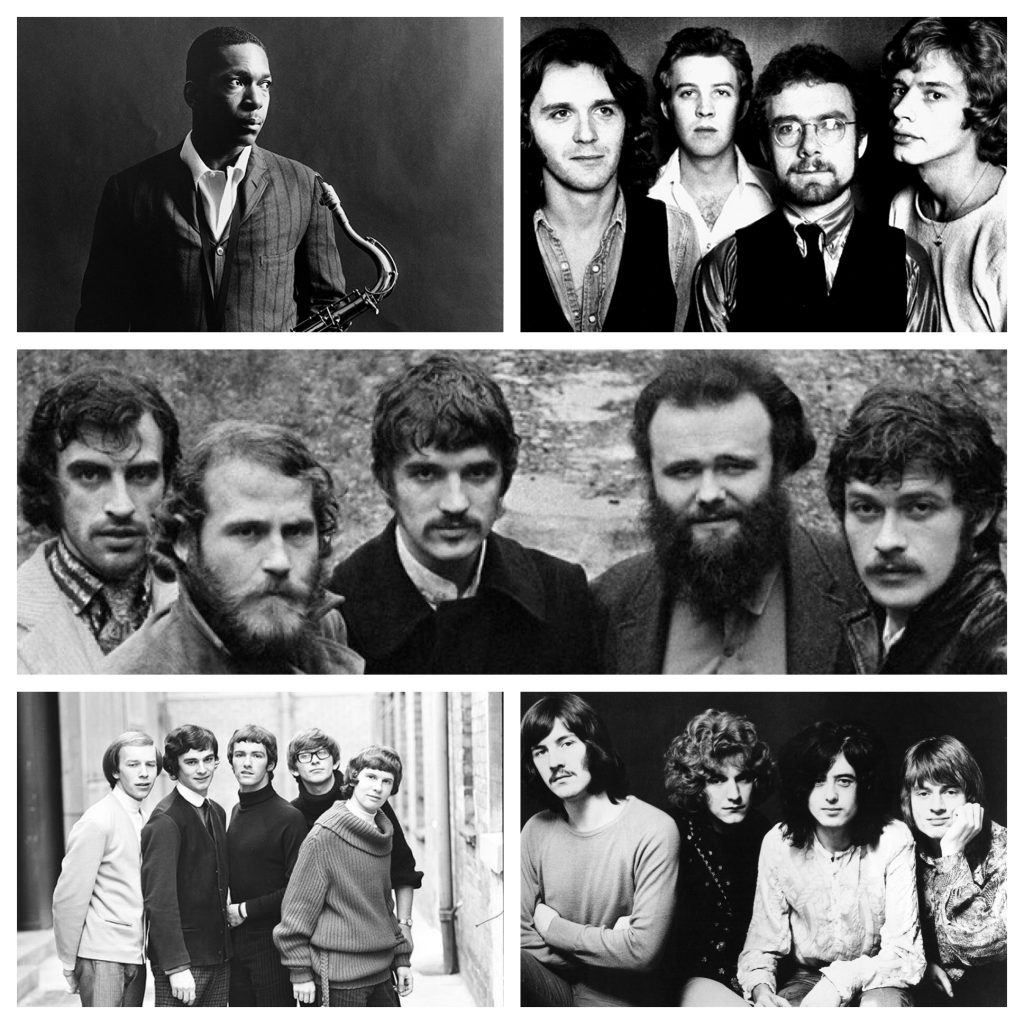 Top 100 songs of the 60's
A Day In the Life - The Beatles
Be My Baby - The Ronettes
Like a Rolling Stone - Bob Dylan
God Only Knows - The Beach Boys
Gimme Shelter - The Rolling Stones
I Want You Back - Jackson 5
Hey Jude - The Beatles
All Along the Watchtower - The Jimi Hendrix Experience
Waterloo Sunset - The Kinks
Desolation Row - Bob Dylan
My Favorite Things - John Coltrane

Tomorrow

Never Knows - The Beatles
Good Vibrations - The Beach Boys
Sympathy For the Devil - The Rolling Stones
My Generation - The Who
I'm Waiting For the Man - The Velvet Underground
Strawberry Fields Forever - The Beatles
River Deep Mountain High - Tina & Ike Turner
I Wanna Be Your Dog - The Stooges
The Boxer - Simon & Garfunkel
Light My Fire - The Doors
A Hard Day's Night - The Beatles
The Weight - The Band
Just Like a Woman - Bob Dylan
While My Guitar Gently Weeps - The Beatles
Shangri-La - The Kinks
Paint It Black - The Rolling Stones
A Change Is Gonna Come - Sam Cooke
Whole Lotta Love - Led Zeppelin
In My Life - The Beatles
Jumpin' Jack Flash - The Rolling Stones
Heroin - The Velvet Underground
Care of Cell 44 - The Zombies
I Want to Hold Your Hand - The Beatles
Green Onions - Booker T. & The M.G.'s
The Court of the Crimson King - King Crimson
She Loves You - The Beatles
Miserlou - Dick Dale & His Del-Tones
Sweet Thing - Van Morrison
Group Dancers - Charles Mingus
I Want You - Bob Dylan
Eleanor Rigby - The Beatles
A Whiter Shade of Pale - Procol Harum
Hey Joe - The Jimi Hendrix Experience

Sunday

Morning - The Velvet Underground & Nico
(I Can't Get No) Satisfaction - The Rolling Stones
Wouldn't It Be Nice - The Beach Boys
Babe I'm Gonna Leave You - Led Zeppelin
Help! - The Beatles
Papa's Got a Brand New Bag - James Brown
The House of the Rising Sun - The Animals
What Goes On - The Velvet Underground
Stand By Me - Ben E. King
You Can't Always Get What You Want - The Rolling Stones
California Girls - The Beach Boys
Golden Slumbers/Carry That Weight/The End - The Beatles
Suzanne - Leonard Cohen
Subterranean Homesick Blues - Bob Dylan
Lucy In the Sky With Diamonds - The Beatles
Don't Worry Baby - The Beach Boys
Venus In Furs - The Velvet Underground & Nico
Rain - The Beatles
She's Not There - The Zombies
Respect - Aretha Franklin
I Can See For Miles - The Who
Purple Haze - The Jimi Hendrix Experience
You Can't Hurry Love - The Supremes
Visions of Johanna - Bob Dylan
I Heard It Through the Grapevine - Marvin Gaye
Heroes and Villains - The Beach Boys
Come Together - The Beatles
The Tracks of My Tears - Smokey Robinson & The Miracles
Space Oddity - David Bowie
Eight Miles High - The Byrds
Runaway - Del Shannon
The Sun Ain't Gonna Shine Anymore - The Walker Brothers
Mr. Tambourine Man - Bob Dylan
Reach Out I'll Be There - The Four Tops
California Dreamin' - The Mamas & The Papas
You Really Got Me - The Kinks
(Sittin' On) The Dock of the Bay - Otis Redding
White Light/White Heat - The Velvet Underground
Leader of the Pack - The Shangri-Las
Suspicious Minds - Elvis Presley
I Am the Walrus - The Beatles
Fortunate Son - Creedence Clearwater Revival
Blowin' In the Wind - Bob Dylan
21st Century Schizoid Man - King Crimson
The Sound of Silence - Simon & Garfunkel
Louie Louie - The Kingsmen
The Girl From Ipanema - Stan Getz, João Gilberto & Astrud Gilberto
Ballad of a Thin Man - Bob Dylan
Everyday People - Sly & The Family Stone
With a Little Help From My Friends - The Beatles
You Keep Me Hangin' On - The Supremes
Peaches en Regalia - Frank Zappa
White Rabbit - Jefferson Airplane
Sad Eyed Lady of the Lowlands - Bob Dylan
The Night They Drove Old Dixie Down - The Band
A Love Supreme, Pt. 4: Psalm - John Coltrane