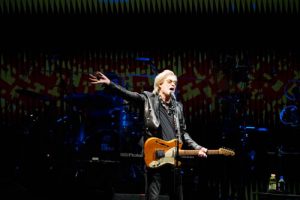 World-renowned musical genius Darryl Hall giving the crowd his best show
at the Great Allentown Fair, Sunday Sept. 1
Photo copyright Gary Preis

In true Allentown Fair grandiosity, the announcer proclaims,
"Ladies and Gentlemen welcome to tonight's show!!!!
Coming to you Live from Phillytown G. Love and Special Sauce!!!!"
With an almost-full crowd in front of him, "G. Love & Special Sauce" keeps the same high energy throughout the set.
G.Love's juicy showmanship certainly wouldn't have such a great impact without the Special Sauce: drummer Jeff Clemens and badass upright bass player Jimi Jazz, who lost a string within the first three songs, yet kept a spectacular composure!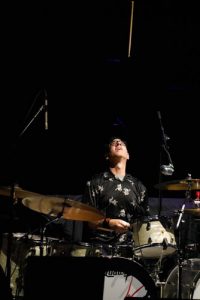 I couldn't speak highly enough of these guys. When the bassist's fourth string went flying they "went from a trio to a duo!" so the lead vocalist and drummer continued to play a little song about Satisfaction.
G. Love gave us a bluesy, melodic performance, switching between two 6-string guitars, and closing with a 7-string. He also paired up with the harmonica, giving us a greater glimpse of his versatility.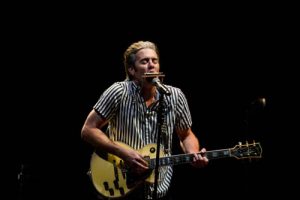 As the opener finishes and treks offstage, and the set-up crew for Hall and Oates begin, and the crowd's anticipation climbs steadily.
A backdrop of brightly colored RCA records of their hits illuminates the night sky.
Hall and Oates and their musical entourage peruse onto stage and the band starts as I march back from the restroom. I walk past more glad, smiling faces than I had seen the whole day at Allentown Fair thus far.
Electric Keyboard, bass, guitar, drums, percussion, brass and keys, and Hall and Oates.
Ok, Wow!
They begin with their killer "She's a Maneater" continuing for a while playing songs I don't know (sorry Lexxie). . ..
Let me say, Hall exudes more energy than one (who's never seen them live) could imagine with just a leather jacket and a smile.
I can tell he loves his job!
After their 7- something-minute rendition of "Sara Smiles",
They cruise through another hit from an early album. The crowd lights up.
With a full moon backdrop, it dawns on me- by dating a musician and watching other musicians- that they're regular people.. well, not-so-regular, they choose irregular against everyone "trying to tell them how to live."
Thank You, Darryl Hall and John Oates for helping me realize everything will work out eventually, and it's all going to be better than I could ever imagine.
Published by Lizzy K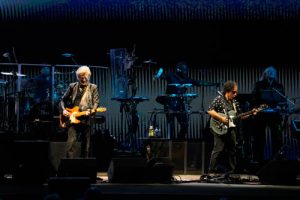 All photo credit belongs to Gary Pries